When considering a new AC installation, Tampa residents often think there is no point if their old system is still operational. While AC replacement can be costly, it can be a smart investment given the convenience of smart thermostats and remarkable energy-efficiency gains (often drastically reducing utility bills). Here are seven reasons to put that end-of-year bonus or holiday gift from your parents toward a new AC unit.
Top Reasons Why You Need to Replace Your HVAC Unit
#1. You need to stop shouting over the AC.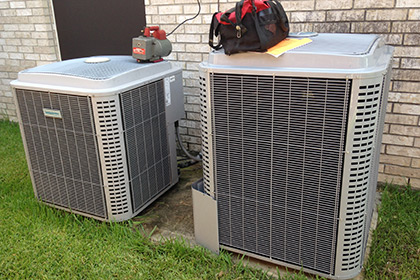 Do you want to be comfortable at the dinner table this summer without having to raise your voice to ask for the salt? Air conditioning systems have grown significantly quieter over the last ten years. A new AC unit can relax the din of your home.
#2. You need better air quality.
Due to energy-efficient buildings, homes are now air-tight; unfortunately, the result is that indoor air is as much as five times more polluted than outdoor air. Your HVAC system can detoxify your living atmosphere, leaving it healthier and cleaner. Air filters and air purifiers can be introduced during new AC installation to clear away germs and harmful vapors, cleaning the air of tiny particles. Dehumidifiers are another component you can add to help your system maintain proper humidity.
#3. You need consistency.
A common frustration with older systems is that cooling becomes uneven, with some rooms feeling warmer or cooler than others. The problem could be that you have insufficient insulation; clogs or leaks in your air ducts; or hardware that is miscalibrated. Calibration simply becomes more challenging as systems age. You can get consistent cooling throughout your house when you invest in an expertly calibrated new AC unit that is also well-insulated and free of leaks.
#4. You need an energy-efficient, eco-friendly system.
There are no harmful chemicals produced through the use of the coolant Puron in the latest energy-efficiency models. These greener air conditioners reduce your carbon footprint while trimming your utility bills. With energy-efficient AC installation, Tampa homeowners garner improved air quality, greater comfort, and more control.
#5. You need stronger resale value.
It will add value to your home. People who are buying homes will check the condition and age of the system. Buyers want to know that the AC is energy-efficient and to be ensured they can avoid the repairs and potential replacement of aging systems.
#6. You need the efficiency and control of a smart thermostat.
You will get a smart thermostat with your new AC unit. These components allow you to set the system to work its hardest when you are home.
With these thermostats, gone are the days when you are away, remember the AC is blasting, and cannot do anything about it. Web-connected programmable thermostats give you control from anywhere you have an internet connection.
#7. Your AC is ready to retire.
HVAC systems typically have a 15-year lifespan. While furnaces can go a bit longer, that is about when it is time to replace an AC.
While you, of course, want to put off that expense as long as possible, it also gives you the chance to optimize your power usage through more efficient technology. In fact, the improvements in efficiency can pay off an entirely new AC unit in as little as two to three years. Bear in mind that you could be losing as much as 20 to 30 percent of energy through ductwork leaks, so be sure the Tampa AC company you have to install the new system checks your ducts.
To postpone AC replacement as long as you can, get regular maintenance. Have your air conditioner serviced twice annually, before the heating and cooling seasons; at the minimum, get it serviced once a year. Change your AC filters every three months, more often if you want to maximize your efficiency or have allergies.
#8. You need peace-of-mind.
Older air conditioning systems are likelier not to be able to handle severe heat waves and to go down at the worst possible times. For the same reason you don't want to drive an old car that will leave you stranded on the way to an important meeting, you don't want your AC to leave you sweaty and sticky in the middle of August.
AC breakdowns can be especially trying when guests are over for a holiday weekend: everyone is involved, and it is difficult to stay calm. In this way, AC installation delivers peace-of-mind.