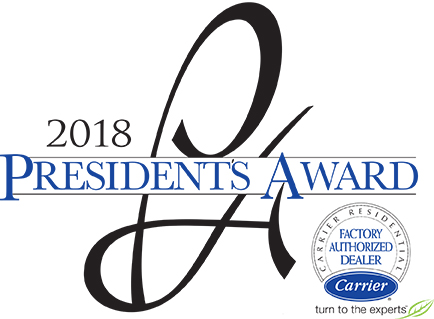 It is a true honor to receive the Carrier President's Award for Excellence. Only Carrier Factory Authorized Dealers who provide Carrier products as their primary product offering are eligible to win the award. As a factory-authorized Carrier dealer, Easy A/C provides the very best in heating and air conditioning products to homeowners across the Tampa Bay Area.
In order to meet Carrier's standards for excellence in service and customer care, potential nominees need to have a strong focus on leadership, management, brand recognition, and industry expertise. As an award recipient, Easy A/C has demonstrated their knowledge and expertise of both Carrier products and systems as well as HVAC industry trends and best practices. Our team aims to set an example for other HVAC companies in the area and across the U.S. by focusing on effective leadership and management in all areas of our company.
Award nominees must also emphasize customer intimacy and operational excellence in all of the areas that are crucial to exceeding Carrier customer expectations for quality, comfort, and performance. The team at Easy A/C, Electrical and Plumbing remains committed to upholding the highest standards of customer service and satisfaction. Our customers are the driving force of all that we do, from answering the initial inquiry call to performing emergency repairs. We aim to do all that we can to provide the very best service for our customers to ensure that their home comfort needs are taken care of.
We invite you to see why the team at Easy A/C was presented with this prestigious award from Carrier. Whether you need a routine maintenance visit or are looking to purchase a brand new Carrier HVAC system, we are here to help you every step of the way. Contact us today for more information about our services.